Discover digital signage solutions to improve the patient experience
Support patients and improve the patient experience using digital touchpoints across your healthcare location. Discover our seven smart signage solutions.

Interested? Get a free consult.
Find out how reliable ProDVX displays and touchscreens improve the patient experience. Get a free consult from a ProDVX specialist.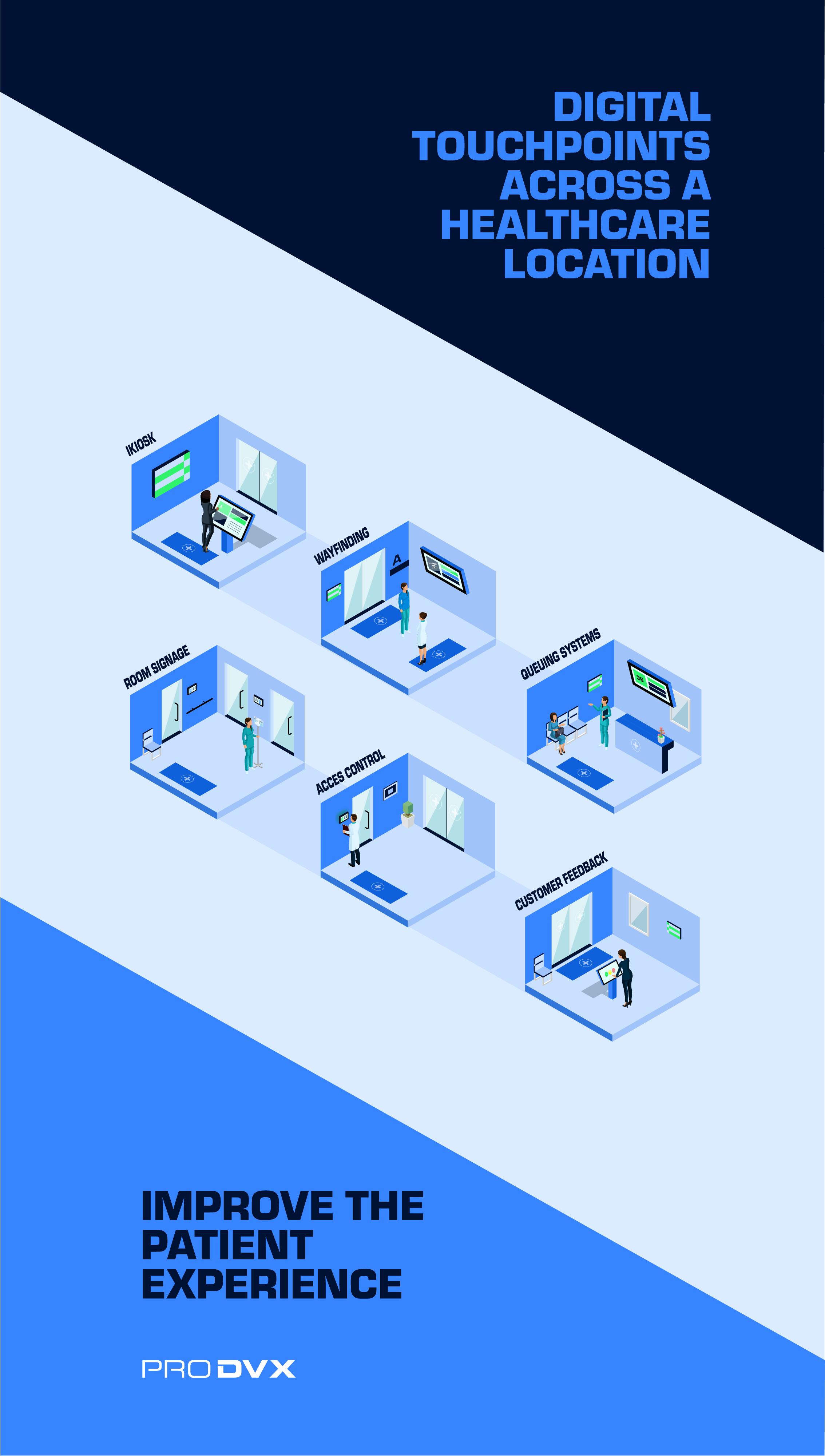 Supreme performing hardware to match smart signage solutions
Improve the patient experience by adding digital touchpoints across your healthcare location. This ultimately improves patient satisfaction because patients check-in without any effort, benefit from a optimized queuing system and are able to nativate easily.
Our reliable and durable hardware offers seven smart solutions to optimize your healthcare system and improve patient experience.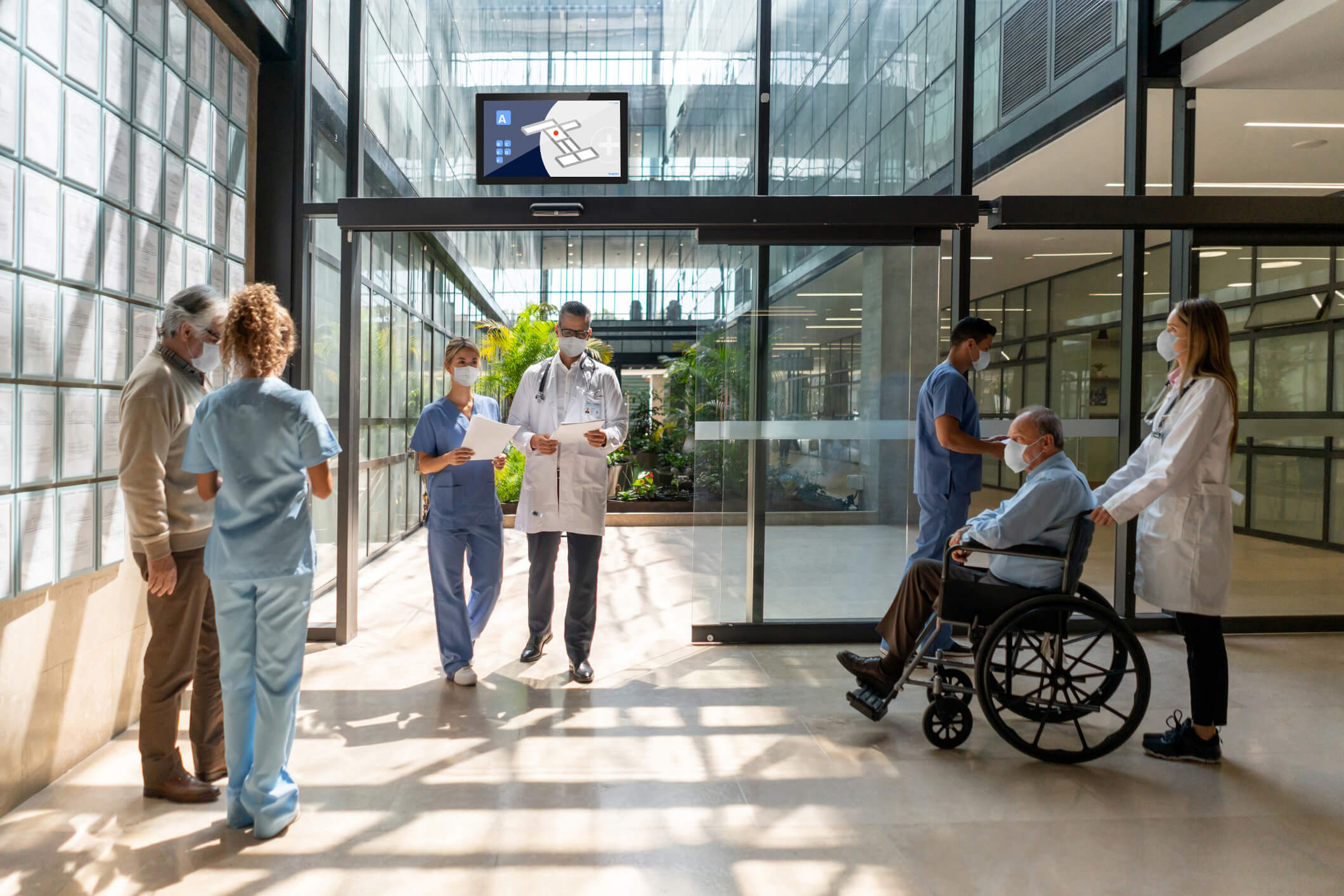 Seven smart signage solutions to improve patient experience
ProDVX displays and touchscreens meet the critical security and quality standards that apply in healthcare. They are easy to install at every location and their supreme performance ensures zero downtime. Our worldwide partners use ProDVX hardware for six smart digital signage solutions.
iKiosks
Ensure Smooth self check-in for patients by using iKiosks. It reduces the burden on your reception staff and helps them focus on more important matters. Our 13DSKP is a true performer when it comes to improving a check-in process.
Way finding
Help patients navigate and improve patient satisfaction by using digital wayfinding solutions. It enables your patients to easily find their destination. The ProDVX 22XP or UW displays are perfect to use in combination with way finding solutions.
Queuing system
Once patients reach their destination, make it easy for them to check-in and wait to be called for. Integrate optimized queuing solutions in your waiting room or even educate them while they wait by using digital signage solutions. The 10SLBW or 22XP are perfect for this.
Room signage
Reliablee room signage solutions display room availability and other essential information. The 7XPL and it's green and red LED's and accessible price will help manage every room at your healthcare location
Access control
Add access restrictions with access control solutions. Our new 10SLBWN with integrated NFC module will make access control easier than ever. Access is only granted to those with the right entry-card and is only a matter of holding it against the display.
Customer feedback
Improving patient experience starts by measuring patient satisfaction. Ask patients about their experience using easy-to-use customer feedback solutions on a ProDVX 10XPL with RGB LEDs.

Nurse calling
Providing an adequate healthcare service to patients and working efficiently are advantages of installing a nurse calling system with a ProDVX 10DSKPL .
Get a free consult and improve your patient experience today
Find out how ProDVX hardware supports your software solution or healthcare location.


Meet our reliable signage hardware
When every moment counts and depends on hardware that's always online, make sure to choose for reliable and durable ProDVX displays and touchscreens. Meet our healthcare-performers that improve your patient experience.


Interested? Get a free consult
Find out how reliable ProDVX displays and touchscreens improve the patient experience. Benefit from a free consult from a ProDVX specialist by getting in touch with us. Together we can assess you situation and determine which solutions or hardware are applicable.
"ProDVX hardware improves the work efficiency of nurses" – Niels Kramer | CLB Integrated Solutions